The workshop will introduce participants to Futures Thinking and Foresight. Within a playful environment, participants will be guided to create future scenarios that are grounded in observations of the world, and expanded through creativity and imagination.
Participants will be challenged to brainstorm in teams, think critically, and problem-solve through hands-on prototyping, building their own speculative design prototypes. They will discover that they already have foundational skills to create meaningful scenarios and to find ways to represent their ideas – while having fun. The methodologies that they will learn can also be applied to their school and personal lives.
Register now at https://forms.gle/jsVhAMVpi6oUkQNm7
Workshop Outline
Understanding the Futures Cone
Spotting trends and recognising the signals of change
Creating imaginative stories of future scenarios
Prototyping the scenario
About the artist: Debbie Ding
Debbie Ding (DBBD.SG) is a visual artist and technologist whose interests range from historical research and urban geography to visions of the future. She researches and explores technologies of perception through personal investigations and experimentation. Prototyping is used as a conceptual strategy for artistic production, iteratively exploring potential dead-ends and breakthroughs–as they would be encountered by amateur archaeologists, citizen scientists, and machines programmed to perform roles of cultural craftsmanship. More about her on dbbd.sg
Join our other workshops too!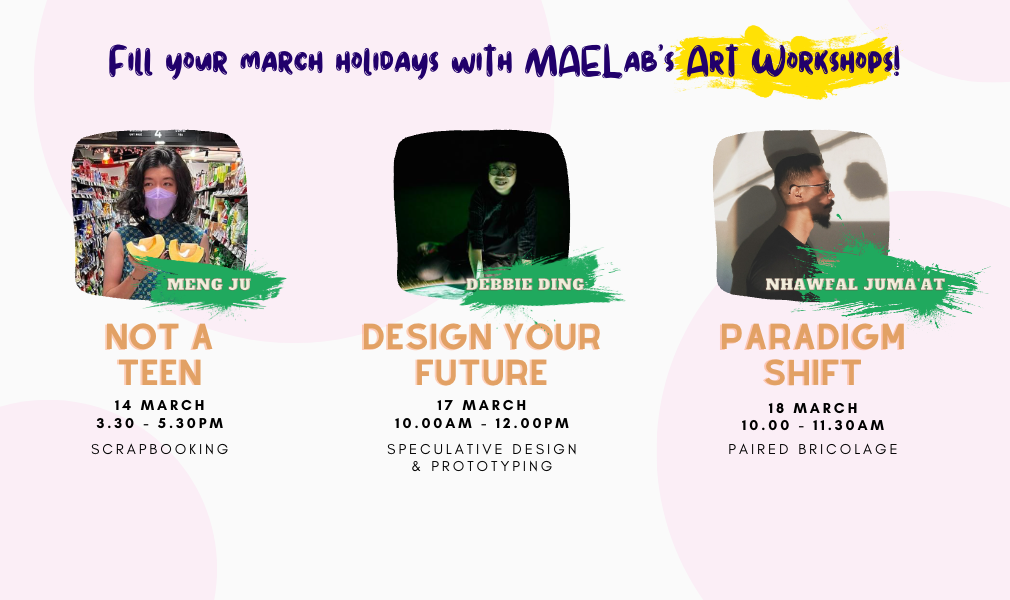 Register now at https://forms.gle/jsVhAMVpi6oUkQNm7