A HEARTFELT THANK YOU TO OUR AWE VOLUNTEERS
On last Saturday, 11 December, we gathered on Zoom for one of our most important events of the year – Age Well Everyday (AWE) Volunteer Appreciation. With the help of our volunteers, who actively organized activities for the community based on the AWE content learnings, Mind Science Centre was able to fulfil the promise of translating research into intervention programmes that is beneficial to the community.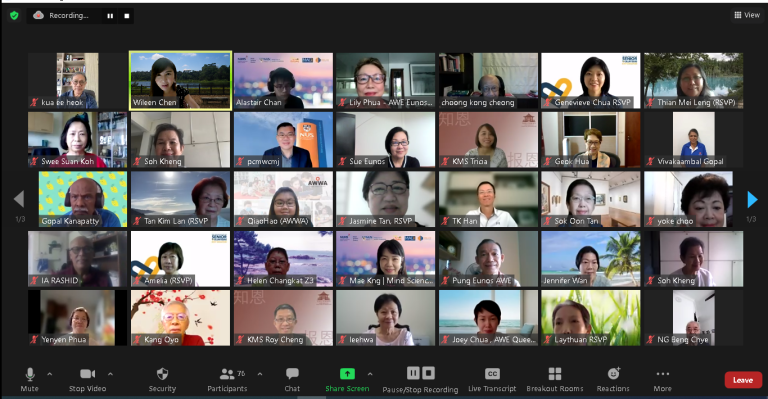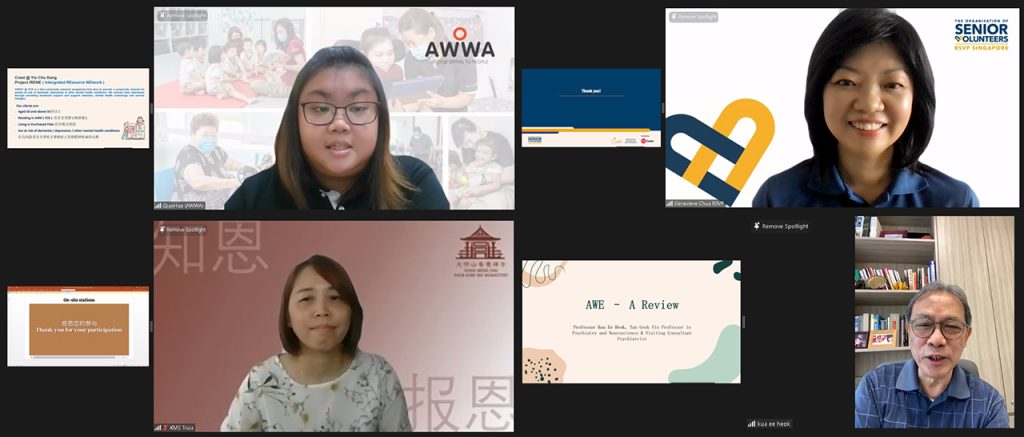 During the event, some of our partnered centres (RSVP, Asia Women's Welfare Association, Kong Meng San Phor Kark See) shared their current activities and plans to extend the outreach of the programme. Professor Kua Ee Heok, the Tan Geok Yin Professor in Psychiatry and Neuroscience at the National University of Singapore, shared more on the upcoming plans we have for AWE as well.
The highlight of the day was the acknowledgement of the long-serving volunteers and e-learning graduates across our partnered centres. We are truly thankful for all their contribution to the programme. Join us in celebrating their achievements!

Kong Meng San Phor Kark See
Queenstown Community Centre

Once again, we thank all our donors, partners, volunteers and all who have contributed to the success of the programme this year. We are glad that there are so many people with us on this meaningful journey.
Age Well Everyday is a holistic and evidence-based depression and dementia risk prevention programme designed to delay cognitive deterioration, reduce anxiety and increase socialisation. This flagship programme under Mind Science Centre is derived from the ongoing 10-year Jurong Ageing Study. As of now, the programme includes health education, physical exercise, mindfulness practice, art and music reminiscence, horticultural therapy, choral singing and therapeutic forest. The list may grow as our research team uncovers more beneficial activities.
Click HERE for more information.
Otherwise, feel free to contact us at pcmbox6@nus.edu.sg.