'Am I at risk of dementia' Webinar Highlights: 16 March 2023
The third edition of our Dementia Asia's signature webinar series – 'Living with Dementia' took place on 16 March 2023. The lunchtime webinar saw a total of 511 attendees, who are interested to hear the answer to our burning question 'Am I at risk of Dementia'?  from our distinguished speaker – Associate Professor Rathi Mahendran. During the hour-long webinar, A/Prof Rathi Mahendran covered the most common types of dementia, the diagnostic criteria and potential preventive interventions.
A/Prof Rathi is a Senior Consultant Psychiatrist at National University of Singapore and National University Hospital. She is involved in numerous milestone research projects that seek to uncover innovative ways to prevent dementia at community level.
The webinar was chaired by Professor Kua Ee Heok, the Tan Geok Yin Professor of Psychiatry and Neuroscience, who is also the Vice Chairman of Mind Science Centre.
Associate Professor Tan Tin Wee, who is the Chief Executive of the National Supercomputing Centre of Singapore, also shared his personal experience of caring for parents with dementia and the steps he has taken to prevent the onset of the disease.
Watch the full recording to find out more!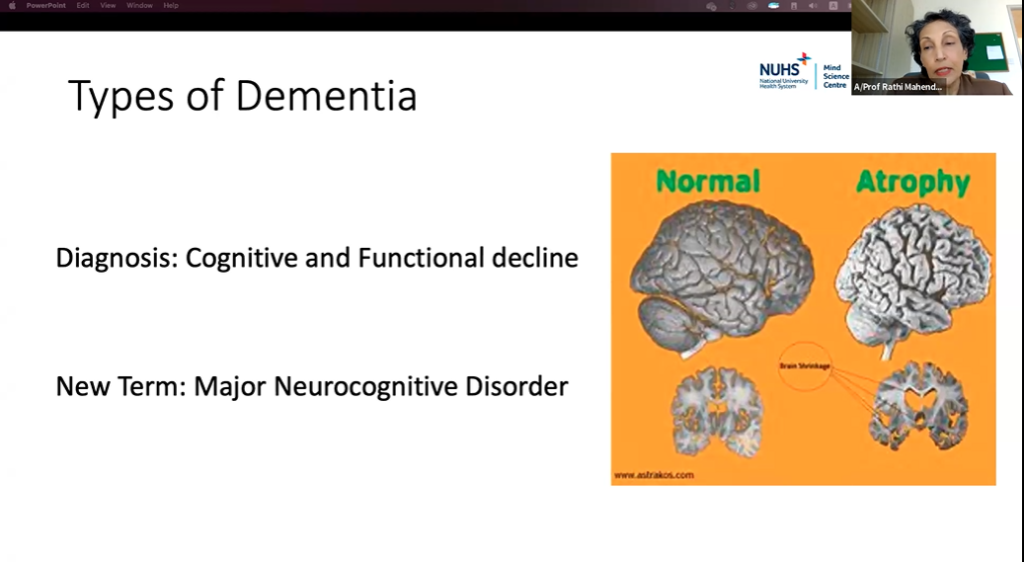 The official diagnosis of dementia requires the presence of both cognitive and functional decline.

In the early stages, functional decline is evident as difficulties in carrying out instrumental activities of daily living, while in later stages, it will manifest as an inability to conduct basic activities of daily living, i.e. bathing, feeding and walking.
The six domains of identifiable cognitive decline include:
Memory and Learning: Inability to retain new information
Language: Difficulty in recalling words and forming speech
Attention: Problems with focusing and multitasking
Executive Function: Reduced ability to perform higher-order skills like thinking, planning, organizing and decision making
Perceptual Motor Functioning: Inability to make meaningful connections between an object and its purposeful function
Social Cognition: Difficulty in recognizing people's emotions, intentions and behaviours.
Dementia is clinically known as Major Neurocognitive Disorder. There are many types of dementia:

Alzheimer's dementia
Vascular Dementia
Parkinson's Dementia
Frontotemporal Dementia
Lewy Body Dementia
Dementia due to multiple etiologies
Dementia due to traumatic brain injury
Dementia due to another medical condition
Dementia due to substance/medication use
Dementia due to HIV infection
Huntington's dementia
Dementia due to Prion Disease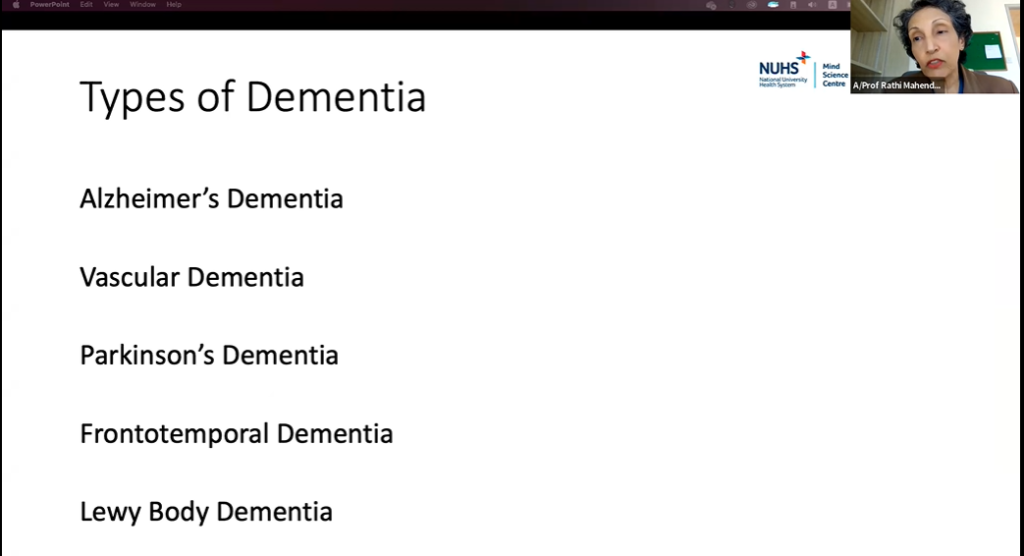 Alzheimer's dementia has a very gradual progression of cognitive and functional decline. The Amnestic type involves impairment in memory and learning. The non-amnestic type involves visuospatial and speech impairments. For more detailed explanations of the types of dementia, please view the recording.
Different types of dementia have different associations with inheritance. The majority of dementia types are not inherited by children and grandchildren. The most significant risk factor is, in fact, age. However, Early Familial Alzheimer's disease does have a hereditary component. View the recording to find out more.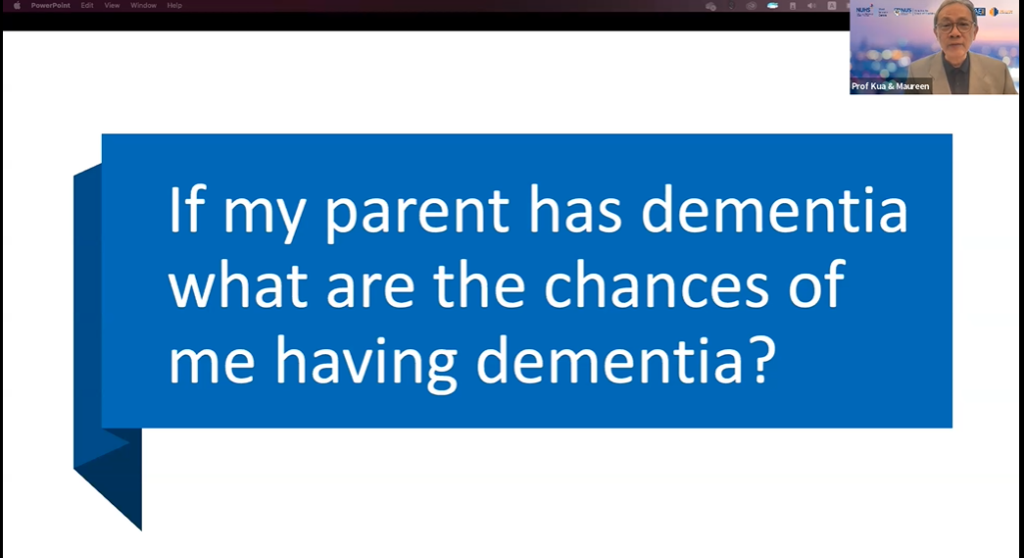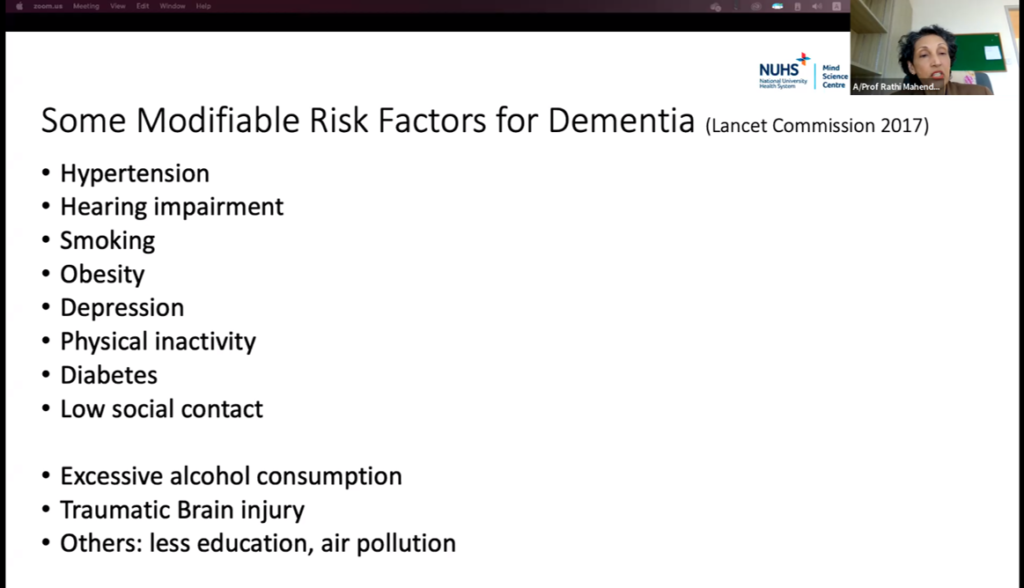 Dementia has many modifiable risk factors and active steps can be taken to prevent its onset. Find out more in the recording.
ABOUT DEMENTIA ASIA WEBINAR SERIES
'Living with Dementia' webinar series was first launched in April 2022 and has progressed to its third edition in March 2023. Mind Science Centre seeks to build the foundations of a strong dementia support network through informative talks and discussions. This initiative was made possible by the generous donation from Professor Hong Hai and Ren Hai Centre Limited. All information will be made readily available to the public through our website, with the aim of developing a multi-faceted archive of relevant and relatable information.
Past Editions
Highlights of the past few webinars are available in the following links.
'Coping Strategies for Caregivers' 
All content and media on the Mind Science Centre website are created and published online for informational purposes only. It is not intended to be a substitute for professional medical advice and should not be relied on as health or personal advice. Always seek the guidance from your doctor or other qualified health professional with any questions you may have regarding your health or a medical condition. Never disregard the advice of a medical professional, or delay in seeking it because of something you have read on our website.
If you wish to seek clarification on the above matters please don't hesitate to get in touch with us.
We hope you enjoyed this webinar, and we look forward to seeing you again. Mind Science Centre has shared the video for educational purposes, in line with our goals to share knowledge and benefit the community. Please do not replicate the videos or slides without permission.
For more information and free online mental health resources, sign up for our mailing list HERE.