'ARTS FOR MENTAL HEALTH' WEBINAR HIGHLIGHTS: 10 OCT 2021
In this edition of Mind Science Centre's (MSC) key event – Tow Tiang Seng Distinguished Lecture Series, we celebrated World Mental Health Day the unique way with our webinar audience of 464 on the rainy afternoon of 10 October. We were honored to have our Patron – Mrs Teo Poh Yim, with us on the webinar to launch of our little gift of positivity to the world – 'Singing in the Rainforest' Music Video.
Art of Emotional Balance by Professor Foo Keong Tatt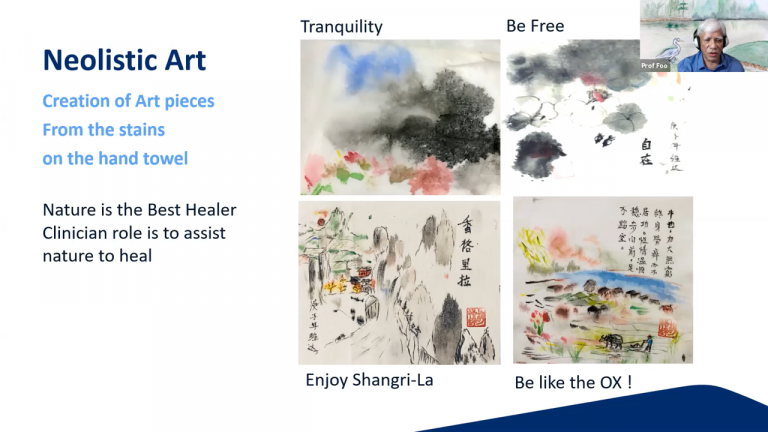 Through these activities, he was able to integrate mindfulness into his daily life. Beyond that, his artworks expressed wise sayings, which are the key takeaways he wished the audience will benefit from and regain their balance in life through the enlightenment.
Here's a quick summary of the wisdom Prof Foo shared:
Emotions can cause illness. Emotions can also cure illness! So, Be Balance.

Less is more, more may bring more problems. The key to being balanced lies in simplicity.

The world is not perfect, so be tolerant. Collaborate even if we are different.

Remembering your core purpose and go forward with courage.

The 4 ways to managing stress: Be contented; Forgive and do good; Accept and adapt; Find time to relax

Enjoy Nature, go with the Flow, and you will find Peace. That is Happiness!
Science of Art Therapy by Associate Professor Rathi Mahendran
A/Prof Rathi shared some findings from the research studies by MSC, where the research team has actively investigated the benefits of Arts on the mind.
A Song for World Mental Health Day: Singing in the Rainforest
World Mental Health Day was first celebrated in 1992 and it is a dedicated day we honor the efforts of all mental health advocates and mobilize all efforts to promote greater awareness of mental health issues. This year, MSC has a special gift for the world – a song of Hope.

A melody may be a string of musical notes, but it has the power to tug at the heartstrings of those who take a moment to listen. Every voice makes a difference. Are you ready to join us for this meaningful cause?
Note: Filming was done in line with the Mandatory Safety Rules for the Resumption of Content Production. Voices were individually recorded in the studio and there were no on-site singing during video filming. Participants and crew were fully vaccinated.
Mind Art Experiential Lab Sharing Session
The webinar was closed by Mae, the Assistant Director of MSC, with a sharing of our ongoing curation 'Arts, Mindfulness and the Ageing Brain' at the Mind Art Experiential Lab.
The inaugural exhibition showcases an exciting mix of art-based research, arts in community and mind-body-space connection. It explores the interface between mental wellness and art, and empowers visitors to take ownership of their emotional and cognitive wellbeing. For more information, click HERE. 
The curation is available until end of the year. Entry is free and strictly by appointment only. You may make an appointment HERE.
Here's the address: Alexandra Hospital, 378 Alexandra Road, Block 29 Level 2, S159964
There is also a virtual tour and we are happy to take you through the tour if you prefer this option. View the virtual tour HERE! 
If you have further queries, please contact Liani at liani05@nus.edu.sg.
ABOUT TOW TIANG SENG DISTINGUISHED LECTURE SERIES
This MSC's key event was made possible by the generous contributions by the Tow Family, and MSC would like to take this opportunity to thank Mr Tow and family for the support for our programmes and research in mental health.
The lecture series is a rich resource for the general public to find out how an undefeated mind can be cultivated from our lifestyle and from the community we live in through productive discussions about mental health issues and potential interventions. The first of the series was themed 'Living, Working and Ageing in Singapore', delivered by Professor Norman Sartorius – former director of the World Health Organization's Division of Mental Health, and former president of the World Psychiatric Association. The second lecture dived into the Traditional Chinese Medicine and Biomedical Perspectives of mental health to discover 'The Ecology of Longevity'. The third lecture was a hybrid event at Goodwood Park Hotel as the audience gathered for an insightful talk on 'Music is good for my Mental Health' by Maestro Jeremy Monteiro. The recordings of the lecture series are available on MSC website.
OUR 4TH KEYNOTE SPEAKER: PROF FOO KEONG TATT
Professor Foo, an Emeritus Consultant at Singapore General Hospital and Clinical Professor at National University of Singapore, is well-known for his medical contributions to Urology. As a distinguished surgeon, he has won numerous awards in urological surgery.
His philosophy – Practicing medicine is about the balance of science and art – has inspired many generations of Clinicians. Beyond the medicinal approach, he believes that mindfulness is the key in maintaining a good health. His leisure interest lies in mindful activities, such as practicing calligraphy, water color painting and meditation.
We hope you enjoyed this webinar, and we look forward to seeing you again. Mind Science Centre has shared the video for educational purposes, in line with our goals to share knowledge and benefit the community. Please do not replicate the videos or slides without permission.

For more information and free online mental health resources, sign up for our mailing list HERE.