FOOD FOR THE MIND EDUCATIONAL BOOKLET
Mind Science Centre has collaborated with NUH Memory Clinic and NUH Dietetics to create a "Food for the Mind" booklet focusing on nutrition for healthy ageing. This publication serves as a reminder to inculcate healthy eating habits and to adopt a varied and nutritious diet.
As life expectancies increase, the need to promote and identify factors related to healthy ageing becomes more important than ever. A core feature of ageing is neurodegeneration, the progressive loss of neurons in the brain, which leads to cognitive decline and in severe cases, dementia. Although neurodegeneration is largely a biological process, our lifestyle choices are likely to make an impact on the maintenance of brain health.
The brain consumes approximately 20% of the energy produced by the food we eat – greater than any other organ in the body. Diets consisting of high quality and nutrient-dense foods have been shown to stave off the process of neurodegeneration and development of chronic cardiovascular diseases – which are also risk factors of neurodegeneration. This means that the quantity and varieties of food we supply the brain with impact how sharp and alert our minds are.
For a high resolution version of the Food for the Mind booklet, please download the PDF version here.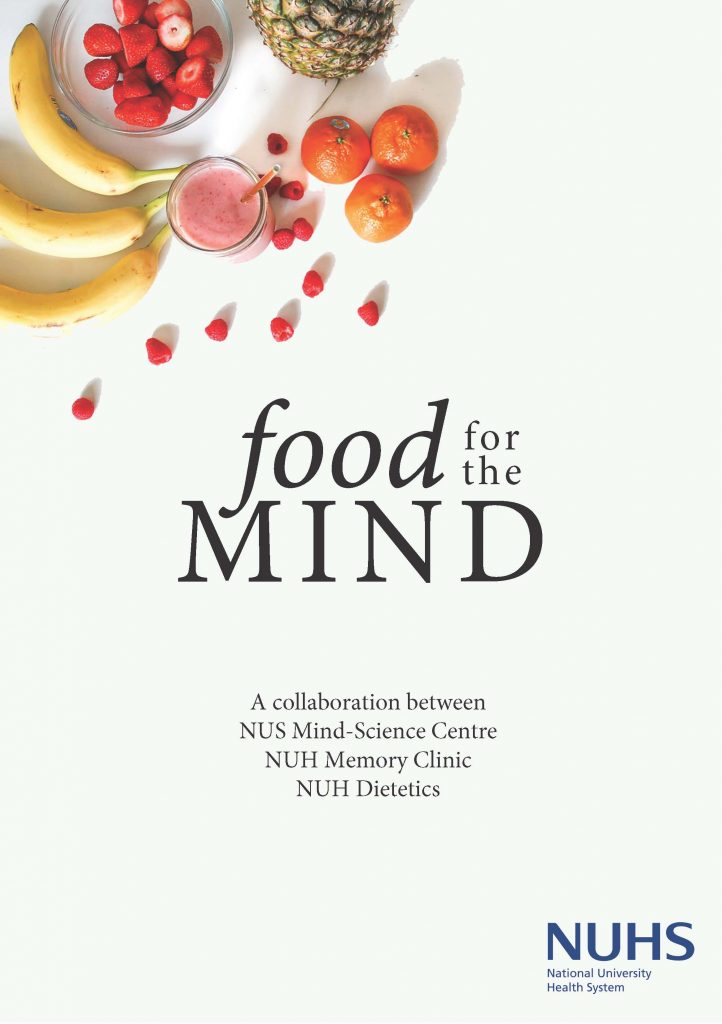 FOOD EDITORIAL – FOOD FOR THE MIND
The Food Editorial is a joint collaboration between the NUS Mind Science Centre, NUH Memory Clinic and NUH Department of Dietetics. We have attached the reference list below should you be interested in the in-depth studies.
Amieva, H., Meillon, C., Helmer, C., Barberger-Gateau, P., & Dartigues, J. F. (2013). Ginkgo Biloba Extract and Long-Term Cognitive Decline: A 20-Year Follow-Up Population-Based Study. PLoS ONE, 8(1), e52755. http://doi.org/10.1371/journal.pone.0052755
Head, E. (2009). Oxidative Damage and Cognitive Dysfunction: Antioxidant Treatments to Promote Healthy Brain Aging. Neurochemical Research, 34(4), 670–678. http://doi.org/10.1007/s11064-008-9808-4
Kennedy, D. O. (2016). B Vitamins and the Brain: Mechanisms, Dose and Efficacy—A Review. Nutrients, 8(2), 68. http://doi.org/10.3390/nu8020068
Letenneur, L., Proust-Lima, C., Le Gouge, A., Dartigues, J. F., & Barberger-Gateau, P. (2007). Flavonoid intake and cognitive decline over a 10-year period. American Journal of Epidemiology. https://doi.org/10.1093/aje/kwm036
Llewellyn, D. J., Lang, I. A., Langa, K. M., Muniz-Terrera, G., Phillips, C. L., Cherubini, A., … Melzer, D. (2010). Vitamin D and risk of cognitive decline in elderly persons. Archives of Internal Medicine. https://doi.org/10.1001/archinternmed.2010.173
McLellan, T. M., Caldwell, J. A., & Lieberman, H. R. (2016). A review of caffeine's effects on cognitive, physical and occupational performance. Neuroscience & Biobehavioral Reviews, 71, 294–312. https://doi.org/10.1016/J.NEUBIOREV.2016.09.001
Morris, M. C., Tangney, C. C., Wang, Y., Sacks, F. M., Barnes, L. L., Bennett, D. A., & Aggarwal, N. T. (2015). MIND diet slows cognitive decline with aging. Alzheimer's & Dementia : The Journal of the Alzheimer's Association, 11(9), 1015–1022. http://doi.org/10.1016/j.jalz.2015.04.011
Morris, M. C., Tangney, C. C., Wang, Y., Sacks, F. M., Bennett, D. A., & Aggarwal, N. T. (2015). MIND Diet Associated with Reduced Incidence of Alzheimer's Disease. Alzheimer's & Dementia : The Journal of the Alzheimer's Association, 11(9), 1007–1014. http://doi.org/10.1016/j.jalz.2014.11.009
Moore, E., Mander, A., Ames, D., Carne, R., Sanders, K., & Watters, D. (2012). Cognitive impairment and vitamin B12: A review. International Psychogeriatrics, 24(4), 541-556. doi:10.1017/S1041610211002511
Sarker, M. R., & Franks, S. F. (2018). Efficacy of curcumin for age-associated cognitive decline: a narrative review of preclinical and clinical studies. GeroScience, 40(2), 73–95. http://doi.org/10.1007/s11357-018-0017-z
Smith, P. J., & Blumenthal, J. A. (2016). Dietary Factors and Cognitive Decline. The Journal of Prevention of Alzheimer's Disease, 3(1), 53–64. http://doi.org/10.14283/jpad.2015.71
Snitz, B. E., O'Meara, E. S., Carlson, M. C., Arnold, A. M., Ives, D. G., Rapp, S. R., … DeKosky, S. T. (2009). Ginkgo biloba for Preventing Cognitive Decline in Older Adults: A Randomized Trial. JAMA : The Journal of the American Medical Association, 302(24), 2663–2670. http://doi.org/10.1001/jama.2009.1913
Soni, M., Kos, K., Lang, I. A., Jones, K., Melzer, D., & Llewellyn, D. J. (2012). Vitamin D and cognitive function. Scandinavian Journal of Clinical and Laboratory Investigation. Supplementum, 243, 79–82. https://doi.org/10.3109/00365513.2012.681969
Tangney, C. C., Li, H., Wang, Y., Barnes, L., Schneider, J. A., Bennett, D. A., & Morris, M. C. (2014). Relation of DASH- and Mediterranean-like dietary patterns to cognitive decline in older persons. Neurology, 83(16), 1410–1416. http://doi.org/10.1212/WNL.0000000000000884
Zhang, H.-F., Huang, L.-B., Zhong, Y.-B., Zhou, Q.-H., Wang, H.-L., Zheng, G.-Q., & Lin, Y. (2016). An Overview of Systematic Reviews of Ginkgo biloba Extracts for Mild Cognitive Impairment and Dementia. Frontiers in Aging Neuroscience, 8, 276. http://doi.org/10.3389/fnagi.2016.00276