Unleashing Resilience through Creativity: Highlights of MAELab's March Holiday Art Workshop
In line with our ongoing 'Teens & Kin' curation theme of 'Empowering Youths', the working team at Mind Art Experiential Lab collaborated with two well-known artists to develop a series of art workshops for youths to participate in during the March holidays.
Mengju
Mengju's artistic practice revolves around the agency of non-human things and how they protest. She works with found material to make images, sounds, text objects and zines. She is a co-conspirator of radioriotgrrrl with Nadhirah Khalid and plays in a band called Terrapin with Jeremy Sharma and Lai Yu Tong. More about her here. 
Debbie Ding
Debbie Ding (DBBD.SG) is a visual artist and technologist whose interests range from historical research and urban geography to visions of the future. She researches and explores technologies of perception through personal investigations and experimentation. Prototyping is used as a conceptual strategy for artistic production, iteratively exploring potential dead-ends and breakthroughs–as they would be encountered by amateur archaeologists, citizen scientists, and machines programmed to perform roles of cultural craftsmanship. More about her on dbbd.sg
8 MARCH: 'NOT A TEEN' BY MENG JU
With an amazing attendance of 26 students from the College of Alice and Peter Tan (CAPT), the late afternoon art workshop started off with Mengju distributing a sketchbook to each participant and explaining the concepts of 'doodling'. The idea of 'doodling' may seem simple, but it is through these casual forms of self-expression that we are able to connect with the surroundings and be in the moment.
After customizing the cover page of their notebook to establish a sense of ownership for the creative space, the artist brought the group of youths on a silent mindful walk around the neighbourhood of MAELab. The students are instructed to refrain from talking and using their phones during the 40 minutes' walk. At times, they can use hand gestures to communicate, if necessary. The key purpose is for them to focus on themselves and their experience during the walk. The walk incorporated various change in environment, from hospital setting, roadside, construction to nature park connector.
After the walk, the youths were tasked to doodle what they remembered seeing as they were walking through the various neighbourhood and document their experience in the form of illustrations and words.
Main takeaway:
Sketchbook illustrations can be an avenue of self-expression. Give your ideas the well-deserved attention by taking a moment to sketch your thoughts, feelings and vivid memories.
9 MARCH: DESIGN YOUR FUTURE BY DEBBIE DING
This over-subscribed workshop had a total of 14 youths from CAPT and they were divided into groups of 3 or 4 to work as a team. The key theme of the workshop is Futures Thinking and Foresight. The artist fostered a playful environment for the youths to create future scenarios that are grounded in observations of the world, and expanded through creativity and imagination.
During the workshop, the students worked through the stages of understanding future cone, spotting trends and recognising the signals of change. This was followed by creating imaginative stories of future and finally, to prototype a probable solution to the scenario they have created.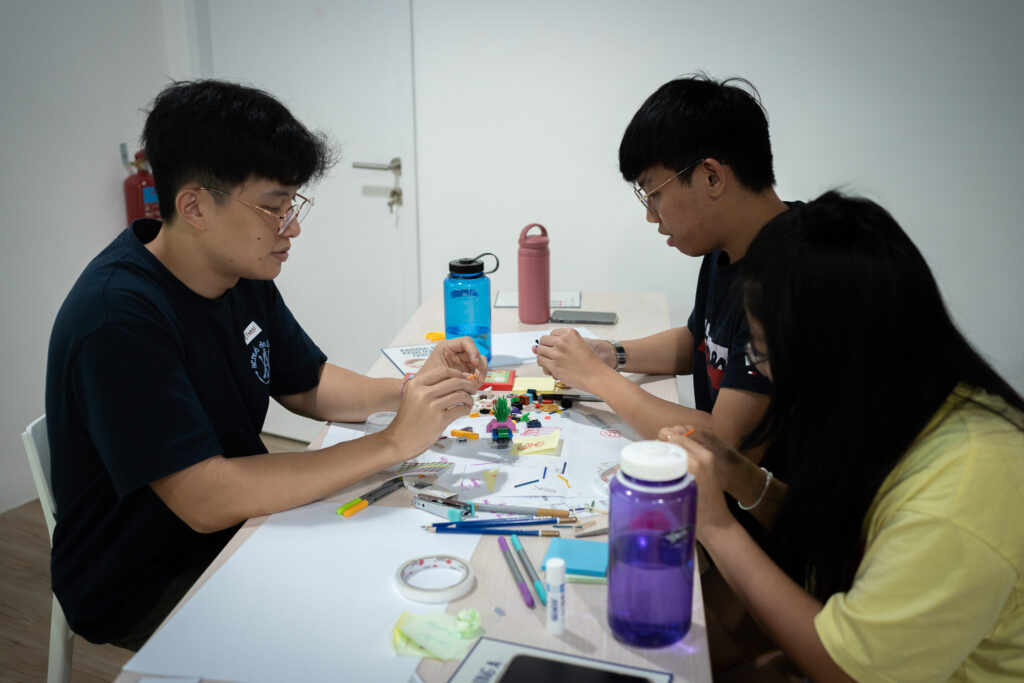 Through these stages, the students were challenged to think critically and problem-solve through hands-on activities and building their own speculative design prototypes using Legos, cardboards and various materials.
The idea of creating something new may be intimidating at the start but soon, they realised that they do possess the foundational skills to create meaningful scenarios and to find ways to illustrate and represent their ideas.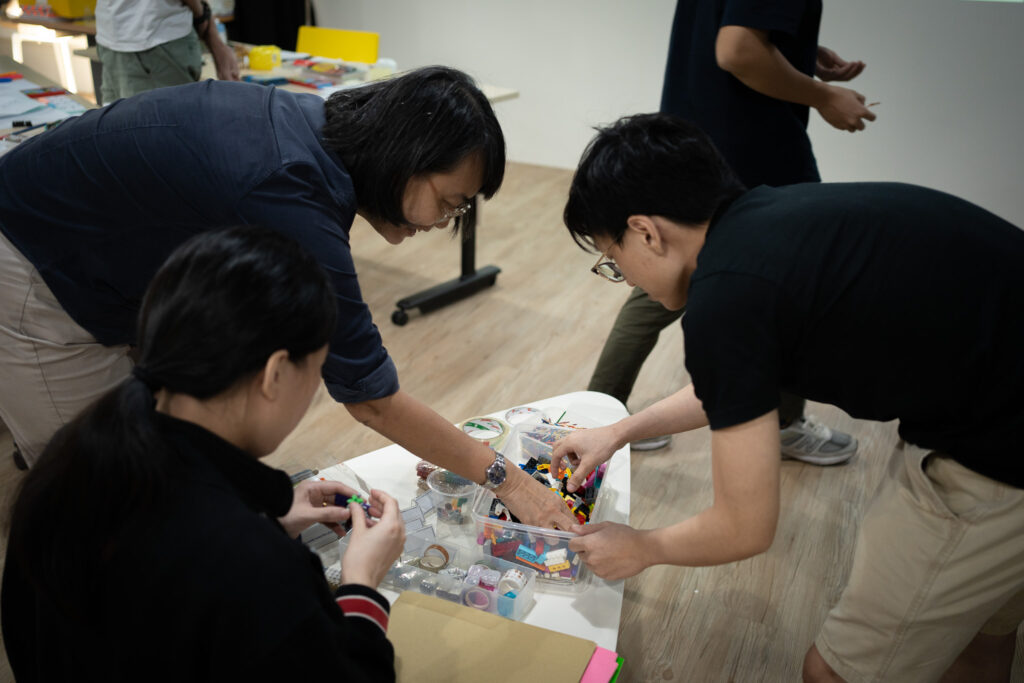 The workshop concluded with a show-and-tell session, where each team presented their unique future story and showcased a mock-up product that will solve the problem faced in the scenario.
Main takeaway:
The sense of empowerment and problem-solving skills applies in whatever we do, be it in school or in daily lives.
HAVE YOU BEEN TO THE 'TEENS & KIN' CURATION AT MAELAB?
The physical exhibition was launched by Dr Janil Puthucheary, Senior Minister of State in the Ministry for Health and the Ministry for Communications and Information.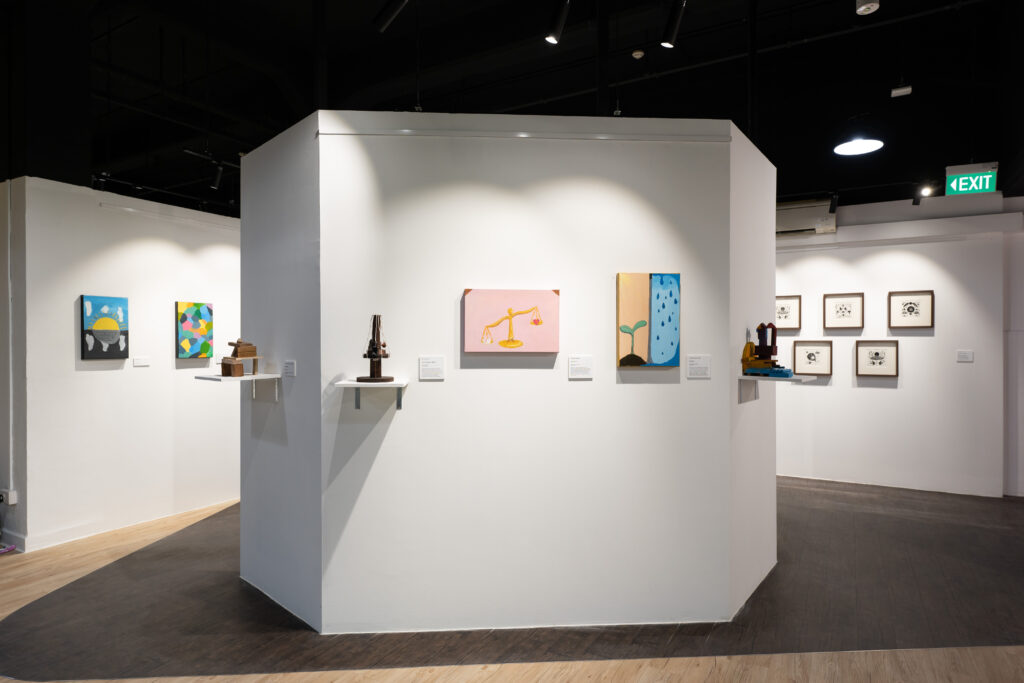 With the spotlight on youth mental health, we are excited to see how this uniquely themed curation can initiate conversations about intergenerational bonding and enhance the resilience of our youth. Through the curated content walls, the messages from the students' artwork, and Mind Science Centre's new self-help booklet – Raising a Resilient Child, parents or caregivers will feel empowered to make a difference in the way they would relate to and guide their children through adolescence. In the same way, youths will be inspired to take active steps in building an undefeated mind from a young age.
Admission is by booking only.
Book your visit HERE! 
The address:
Alexandra Hospital, 378 Alexandra Road, Block 29 Level 2, S159964
Mind Art Experiential Lab (MAELab)
MAELab is an innovative space for discovering creative and integrative interventions through art, mindfulness and transdisciplinary research to promote mental wellness and enhance the quality of mind. Through this space, we seek to raise awareness of mental health, evoke embodied reflective moments and provide an experiential journey that allows the internalization of learning with personal relevance.
Virtual tours are available now!
Arts, Mindfulness, & the Ageing Brain:
Singapore Youth Resilience Scale (SYRESS)
Know your resilience profile today! Mind Science Centre (MSC) developed the Singapore Youth Resilience Scale (SYRESS) as a tool to examine the resilience profiles of Singapore youths. The derived scoring in the respective domains allows us to gain insights into the areas the youths can build on to achieve a resilient mind. Find out more HERE!
Mind + Parent: Raising a Resilient Child
The new Mind Booklet succinctly summarized the key scenarios and strategies parents or caregivers can use in their daily interactions with their children, to instill positive coping methods from young. These strategies are based on MSC's SYRESS, which is a validated profiling tool that detailed the key 10 domains of resilience building that youths can tap on to cope with and overcome life stressors. In another words, through the booklet, we empower the parents or the youths themselves to take active steps in developing positive coping strategies that will accompany the youths through life. Check out the booklet today!