NUS Psychiatry Symposium Day 2: Ageing-in-Place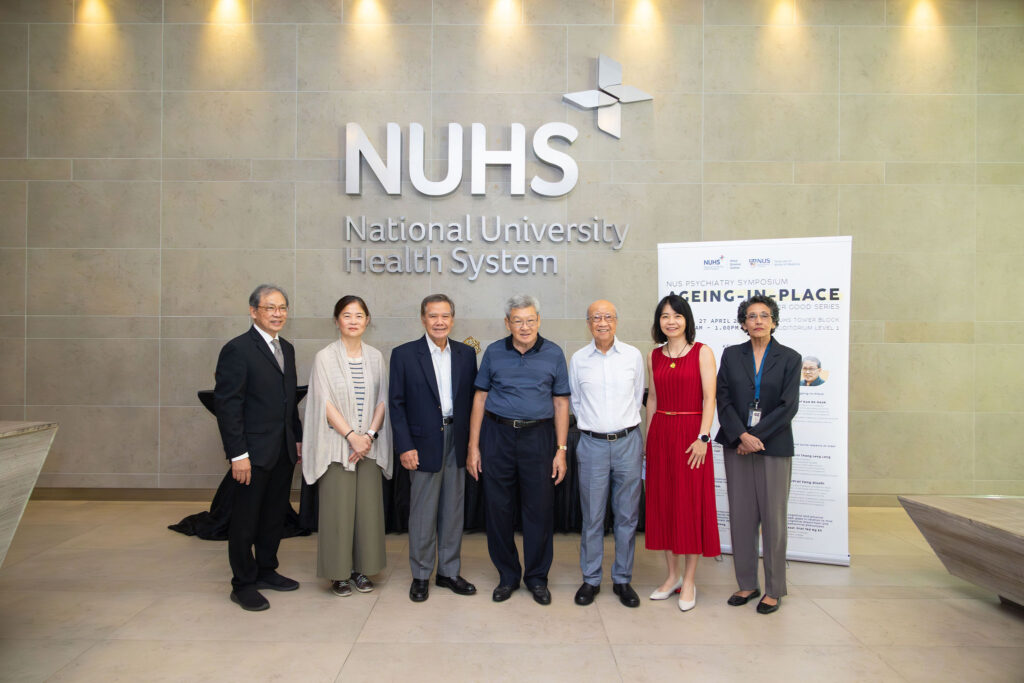 The NUS Psychiatry Symposium on Ageing Well topics took place on 27 April morning with 186 registrants for the event. During the academic event, key findings from the Community Health and Intergenerational (CHI) Study were presented. We were pleased to host the gathering of leading scholars, researchers, and practitioners to exchange ideas to explore how the lessons learnt from the CHI study can inform ageing seniors and their caregivers to better integrate in the community with their families. Beyond that, we hope that the findings can also impact future program planning and policy.
The event commenced with a warm welcome by the Centre Director of Yeo Boon Khim Mind Science Centre – Associate Professor John Wong, the Lin Jo Yan and Yeo Boon Khim Professor in Mental Health and Neuroscience. He opened the day's program by emphasizing on the importance of healthy longevity and being mindful in daily living.
Keynote Lecture
The Community Health and Intergenerational (CHI) Study: Reshaping Ageing-in-Place
Associate Professor Rathi Mahendran, a distinguished Senior Consultant Psychiatrist at the Yong Loo Lin School of Medicine, National University of Singapore and National University Hospital, began the day's series of lectures with an insightful overview of the Community Health and Intergenerational (CHI) Study. The rigorous cohort study examined the biological and psychological aspects of community living older adults aged 60 and above, who resided in the central-western region of Singapore. Initiated in February 2018, the study encountered a delay in completion until October 2021 due to the COVID-19 pandemic. Nonetheless, this offered a unique opportunity to explore how older adults coped during such challenging times. With a multidisciplinary team of 12 esteemed co-investigators from various faculties and departments within NUS, the comprehensive collection of data from 996 individuals is currently undergoing meticulous analysis. Phase 2 of the study is in works and will look into the implementation of interventional studies, which will further enrich our understanding of the concept of ageing-in-place.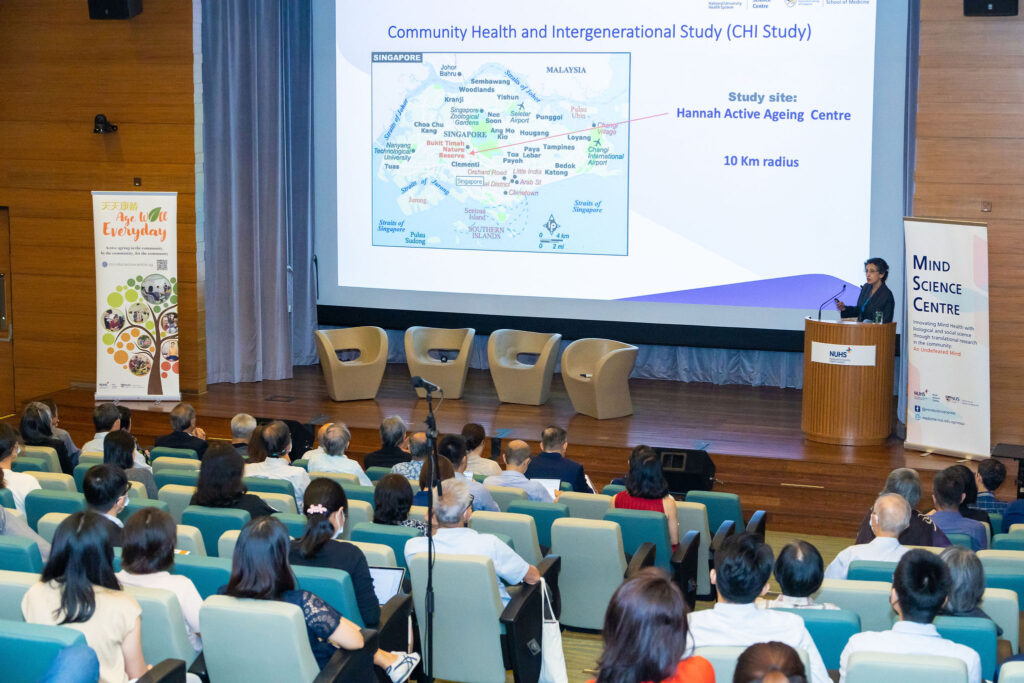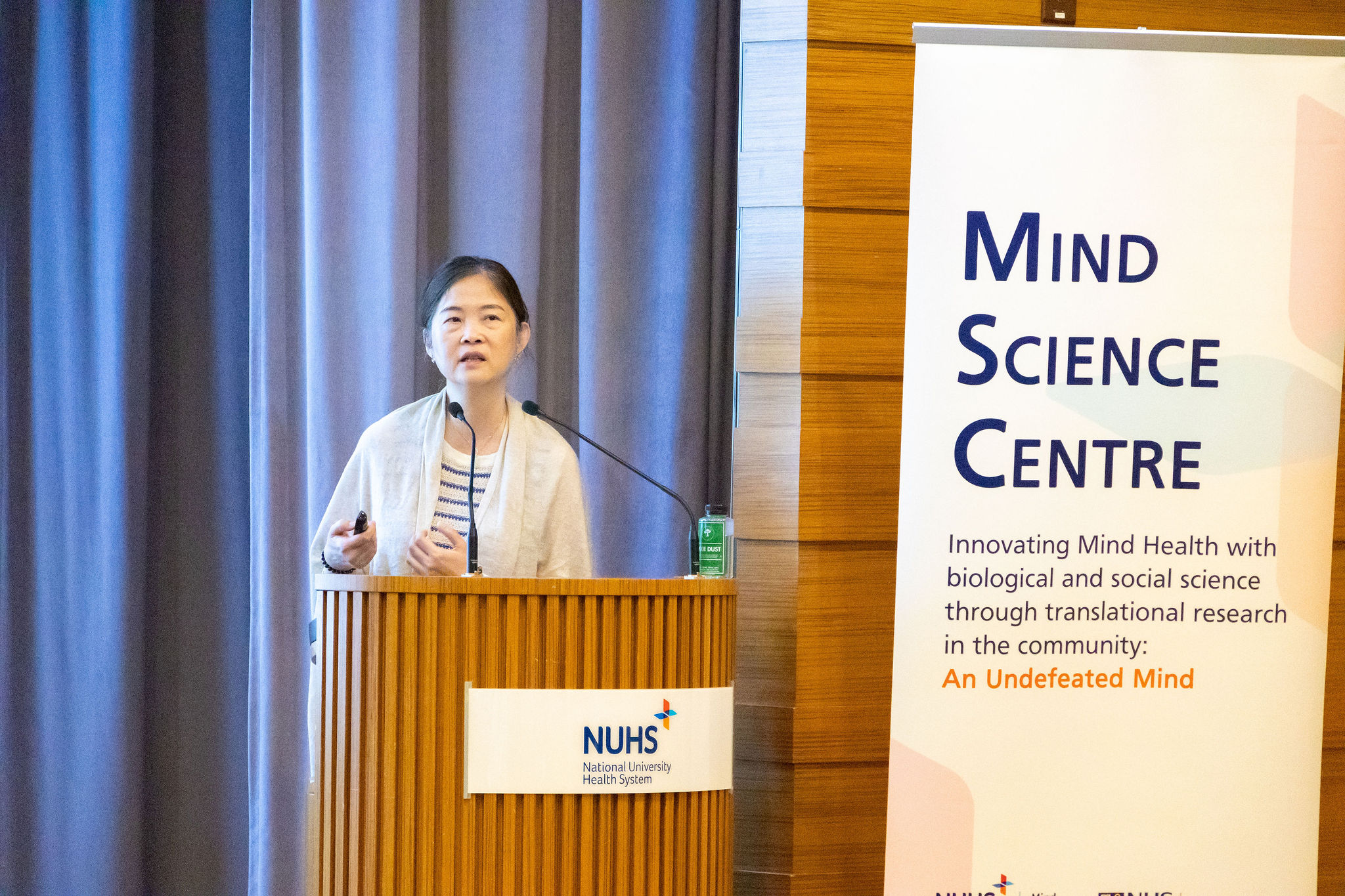 Keynote Lecture                   
Insights into lifestyle and healthy longevity from epidemiology
Professor Linda Lam, a distinguished Professor (Clinical) in the Department of Psychiatry at The Chinese University of Hong Kong, shed light on the valuable insights derived from epidemiological studies regarding lifestyle and healthy longevity in Hong Kong. These studies not only provide crucial information about risk factors for neurocognitive disorders but also contribute to our understanding of healthy aging. Prof Lam emphasized the significance of healthy lifestyles in preserving cognitive function in later stages of life. Furthermore, she highlighted the importance of considering subjective mental well-being as an essential component of healthy longevity, an aspect that has yet to be extensively explored in large-scale epidemiological research focused on late-life mental health. Through empirical studies, the findings provided us with insights necessary for planning, implementing, developing, and evaluating effective mental health interventions tailored for the older community.
Tan Geok Yin Professorship Lecture
Ageing-in-Place
Professor Kua Ee Heok, the esteemed Tan Geok Yin Professor in Psychiatry and Emeritus Consultant at National University Hospital, and Vice Chairman of the Mind Science Centre, addressed the significant concern surrounding senior care, specifically whether seniors can effectively reside in their own homes or if alternative arrangements, such as community homes, are necessary. Prof Kua emphasized the crucial role of strong family bonds and robust community support in facilitating successful ageing-in-place. Moreover, the lecture delved into the subject of parenting as investigated in the CHI study, aiming to elucidate whether the parenting style can serve as a predictor for future care provisions for seniors. Qualitative analysis of the study revealed that parenting style is not a static attribute and evolves over time. Interestingly, the research findings indicated that parenting style does not exhibit a direct association with the future care of seniors. Ultimately, the lecture underscored the undeniable importance of comprehensive support systems encompassing not only the family unit but also the wider community and accessible healthcare services in ensuring the overall well-being and adequate care provision for the seniors.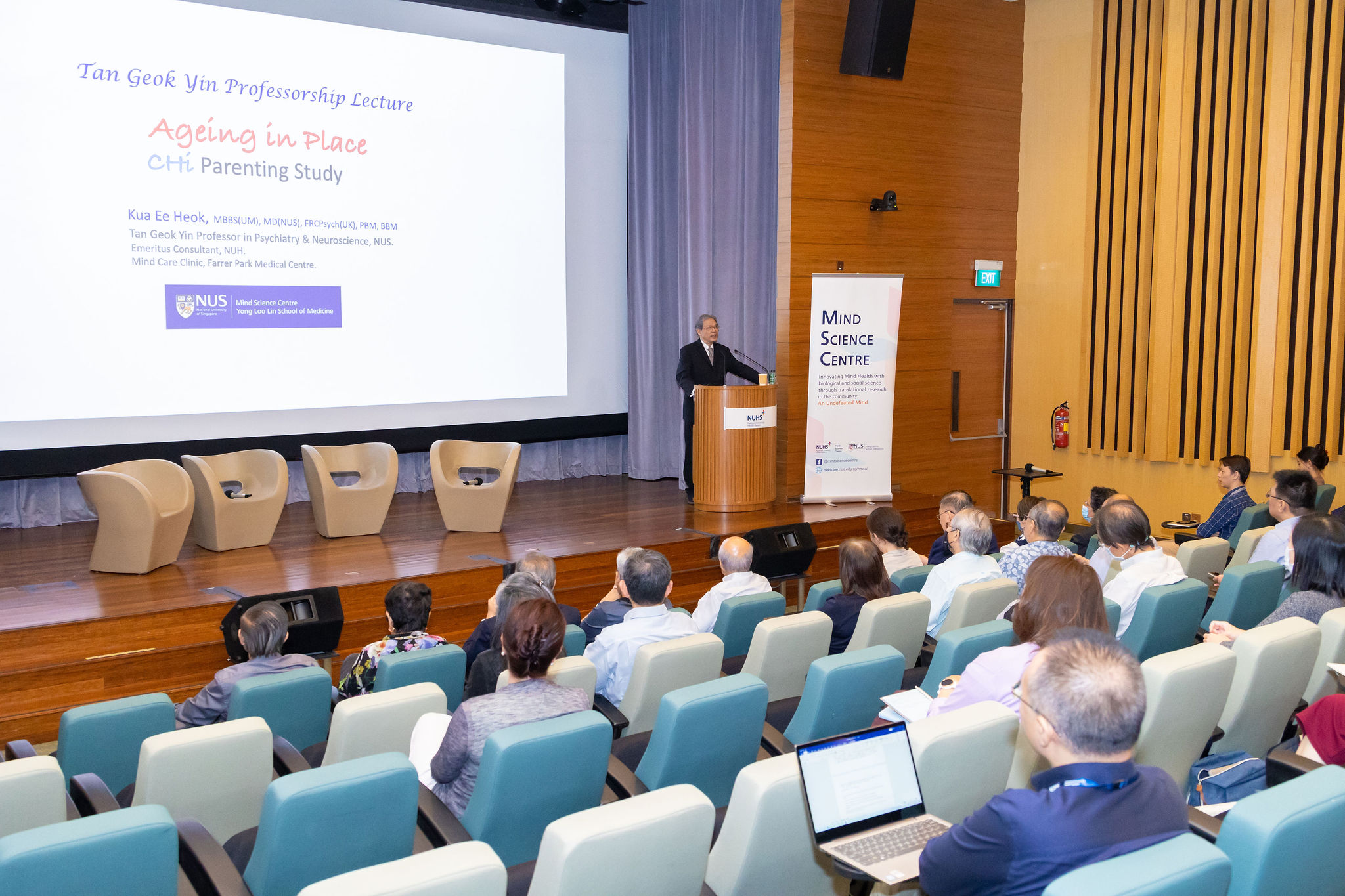 Following a quick tea reception, the second session of the symposium resumed, featuring a series of presentations by researchers who were involved in the massive CHI study.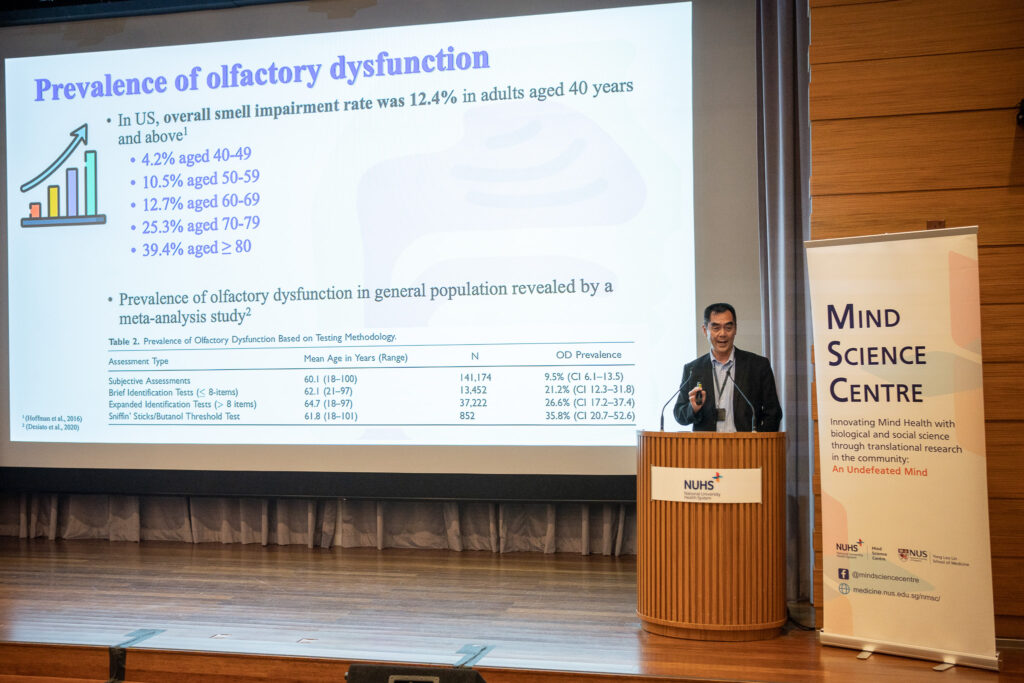 Olfactory dysfunction is associated with mild cognitive impairment in community-dwelling older adults
Professor Wang De Yun, a Research Professor (Tenure) and Director of Research at the Department of Otolaryngology, National University of Singapore, presented on the correlation between olfactory dysfunction and mild cognitive impairment (MCI) among older adults residing in the community. Specifically, it was highlighted that olfactory identification impairment is commonly observed as a comorbidity in older adults with amnestic MCI, suggesting its potential as an early marker for neurocognitive disorders. A smell test may be used as a screening tool, enabling early detection of olfactory impairment in the heterogeneous syndromes of MCI. Prof Wang encouraged clinicians and researchers to leverage a locally developed smell test to screen patients or research participants, facilitating the timely initiation of appropriate health interventions or inclusion in clinical trials. This approach holds promise for enhancing early detection and intervention strategies.
Understanding health and social aspects of older solo-livers in Singapore
Associate Professor Thang Leng Leng from the NUS Department of Japanese Studies and Co-Director of the Next Age Institute, and Associate Professor Feng Qiushi, the Deputy Head of the Department of Sociology and Anthropology and Deputy Director of the Centre for Family and Population Research (CFPR), took the stage to present on the health and social dynamics of older individuals living alone in Singapore. Solo-living within the community has been linked to an increased risk of social isolation. Drawing on data from the CHI study, which encompassed a cohort of 924 community-dwelling older adults in Singapore, the findings revealed that solo-livers exhibited comparable characteristics to those living with others, albeit with slightly lower levels of social support and marginally higher anxiety. Within the solo-living subgroup, distinctions emerged between individuals who had never been married and those who had experienced marriage, highlighting the necessity to acknowledge the heterogeneity and varying circumstances that can impact the well-being of the expanding population of solo-livers.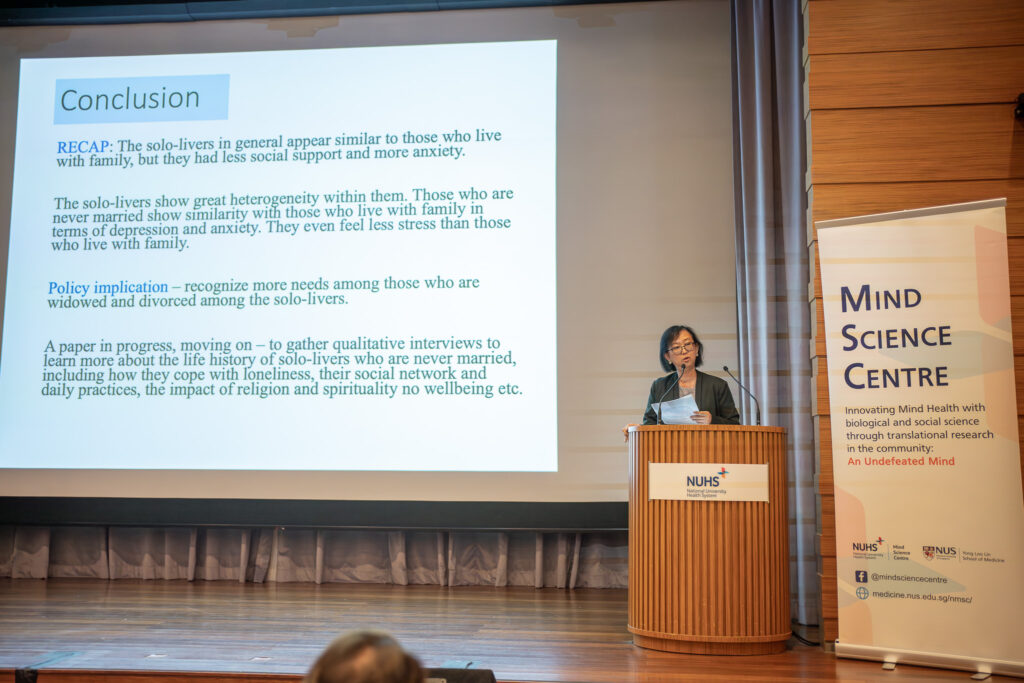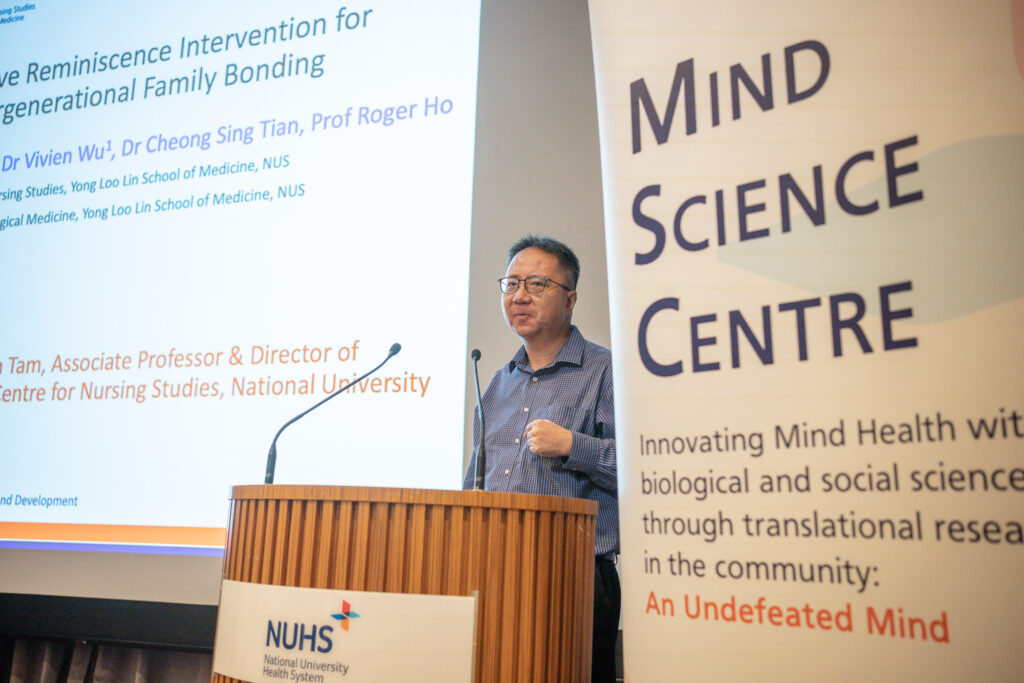 Narrative Reminiscence Intervention for intergenerational Family Bonding
Associate Professor Wilson Tam, the Director of Research at the Alice Lee Centre for Nursing Studies, lectured on the efficacy of Narrative Reminiscence Intervention (NRi) in promoting intergenerational family bonding. The intervention, which involves sharing retrospective accounts of personal experiences, aims to enhance the mental well-being of older adults. To evaluate the feasibility and impact of NRi, a pilot randomized controlled trial was conducted. The study included 8 participants in the intervention group and 7 participants in the control group. Encouragingly, the NRi group demonstrated improvements in key domains, including intergenerational relationships, quality of life, loneliness, and subjective well-being. Notably, participants expressed enjoyment of the intervention, found delight in engaging with young people, and considered the intervention worth recommending to others. From these preliminary findings, the next step will be to conduct a larger-scale randomized controlled trial to comprehensively assess the effectiveness of NRi and facilitate the translation of evidence-based findings into practical applications.
Cognitive and physical age-gaps in relation to mild cognitive impairment and behavioral phenotypes
Assistant Professor Yu Junhong from the Psychology Department at the School of Social Sciences, Nanyang Technological University, delivered his findings in the relation of cognitive and physical age-gaps to mild cognitive impairment (MCI) and behavioral phenotypes among community-dwelling older adults. During his presentation, he introduced the concept of assessing biological aging clocks by calculating the discrepancy between machine learning estimations of biological age and chronological age. While this approach has been applied to various aspects of aging, its utilization in studying cognitive and physical age-gaps has been limited and more can be uncovered about the behavioral and neurocognitive factors associated with these age-gaps.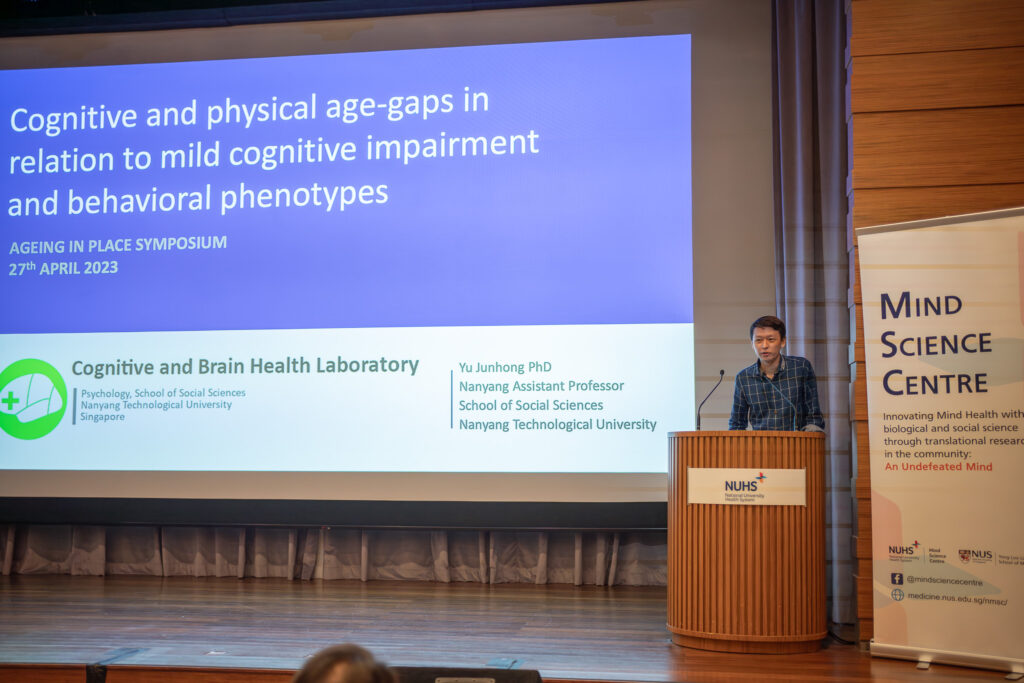 Effects of non-pharmacological interventions on mental health and biomarkers in community-dwelling older adults to prevent dementia
Assistant Professor Ted Ng Kheng Siang from the Edson College of Arizona State University, closed off the day's program with his presentation on the effects of non-pharmacological interventions on mental health and biomarkers in community-dwelling older adults as a preventive measure against dementia. Over a span of 9 years, two pioneering randomized controlled trials (RCTs) were conducted, investigating the impact of two novel interventions: mindful awareness practice and horticultural therapy. The RCTs demonstrated promising results, showcasing the positive influence of these interventions on various outcomes. Specifically, significant improvements were observed in blood and salivary biomarkers and psycho-social outcomes. Furthermore, the insights gained from these RCTs have directly informed the development of two nationwide community programs in Singapore: the "Age Well Everyday Program" and "Therapeutic Gardens," further highlighting the practical applications and potential scalability of these interventions in real-world settings.
We will be updating this space with the symposium recording when it's ready!
Check back in a few days' time or simply follow us on Facebook to be notified when the symposium recording has been uploaded.
Click HERE to view more photos of the event
Support MSC's initiatives - Promote mental resilience across all ages!
Our research takes a preventative approach to studying the mental health of the overall population. Our research focuses on those who are healthy, at risk and with subclinical mental disorders. Through the research findings, we can adopt a fresh approach to advancing mental health in our community and coping with the challenges of urban life.
The Age Well Everyday Program, Mind Art Experiential Lab, MindGym, and Dementia Asia e-Portal are just a few examples of the impactful programs your donation can help fund. Join us in our mission to build a community that values mental health and resilience. Give the gift of mental wellness today!
To make a philanthropic donation, click HERE.