AWE PROGRAMME - OUR FLAGSHIP INITIATIVE
"Active Ageing in the community, by the community, for the community."
Today, 1 in 10 seniors who are aged 60 and above in Singapore have dementia. With increased life expectancy and a rapidly ageing population, dementia cases are expected to triple by 2030. It is important to raise awareness of dementia and focus efforts on prevention.
The programme was designed to encourage people to engage in active ageing, no matter their age. As we live, we age. Healthy ageing is a lifestyle we can start cultivating from today. The community programme is rooted in research and designed to delay cognitive deterioration. Furthermore, it can help to instil a resilient mind and increase socialization amongst seniors. All in all, through the activities, we aim to delay the onset of dementia and improve the senior's quality of life.
The ecology of resilience is exemplified in this programme, where we build a closely-knitted community with our respective community partners that engage participants, volunteers and trainers. With a self-supporting programme structure, a sustained run of AWE activities is ensured.
For seniors, retirees and caregivers, aged 40 & above, we welcome you to join us as a participant or volunteer for the programme.
For those aged below 40, join us as a volunteer to make a difference in your community. Drop us an email at pcmbox6@nus.edu.sg if you require more information or further assistance.
Professor Kua Ee Heok, Professor Goh Lee Gan and Associate Professor Rathi Mahendran sparked the idea of using research to guide a community programme that helps the seniors engage in active ageing and possibly, even prevent dementia.
Prof Kua is the Tan Geok Yin Professor in Psychiatry and Neuroscience at the National University of Singapore.
After gathering a group of like-minded researchers and generous philanthropists, they embarked on the idea to translate the then-ongoing Jurong Ageing Study (JAS) to a rolling community programme, called the Dementia Prevention Programme (DPP). To put it simply, the research will investigate the positive impact of various activities on the elderly's cognitive health. The findings will direct the community programme to roll out actual activities with the community partners.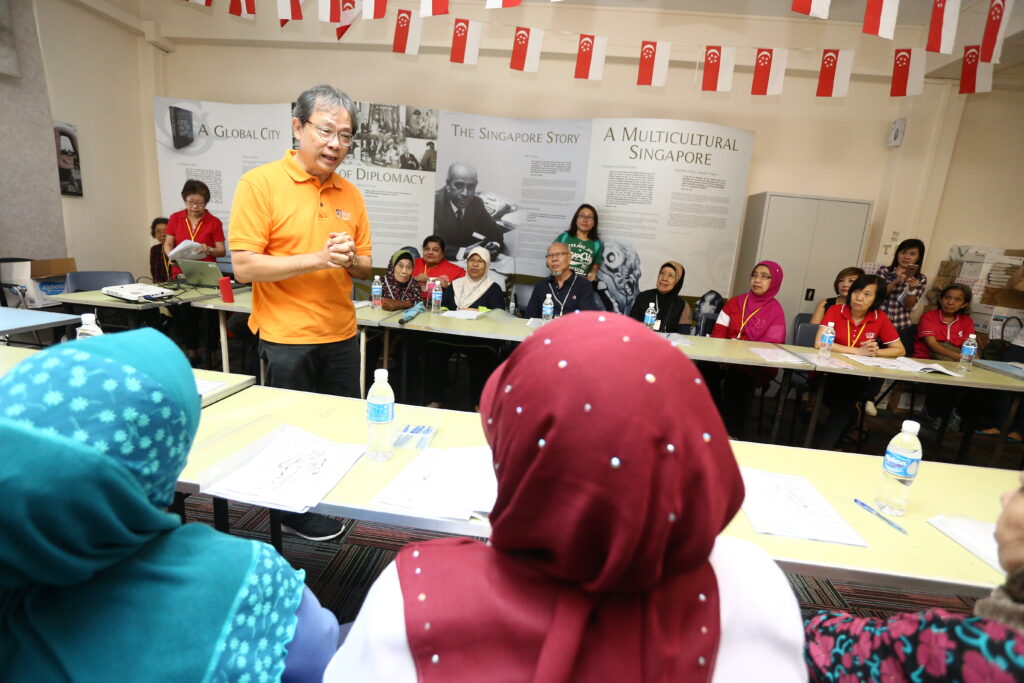 Jurong Ageing Study is a 10-year comprehensive research initiated by Mind Science Centre. Its key research area involved investigating various cognitive stimulating activities for community-living seniors. Notably, some of the studies compared the cognitive improvements of elderly with mild cognitive impairment. Generally, it was found that early psychosocial intervention with seniors may help to delay the deterioration of cognitive capabilities and reduce the incidence of depression and anxiety. With an improved quality of life through active ageing, seniors can embrace their golden age with a resilient mind. Beyond that, the family and society benefit from reduced burden of disease.
REBRANDING OF DPP - AGE WELL EVERYDAY PROGRAMME
During the early run of the Dementia Prevention Programme, the managing committee noticed the slow uptake of the programme by the community. It was found that seniors are concerned with the label of 'Dementia' and the social stigma associated with it.
As such, the DPP underwent a rebranding exercise to be relaunched as Age Well Everyday (AWE) Programme, encompassing the essence of the meaningful initiative.
We want you if….
You are enthusiastic about active ageing and ready to share the knowledge with seniors, family and friends!

You can speak English and/or Mandarin.

You enjoy interacting with seniors.

You are able to commit to regular activity schedules as planned by the respective community partners.
As we expand to partner with more communities, more volunteers will be needed to keep the regular AWE activities ongoing for our growing number of senior participants. If you would like to become an AWE volunteer, please approach any of our community partners to find out more.
Beyond that, sign up for the AWE E-Learning Training Course to garner more knowledge about active ageing before becoming an advocate of the programme.
| Our Community Partners | Contact Information |
| --- | --- |
| Bukit Timah Community Club | |
| | |
| Kong Meng San Phor Kark See Monastery | |
| | |
| Queenstown Community Centre | |
| | |
| Tampines-Changkat Community Club | |
*Please note that some of the community partners have moved their activities online due to the current pandemic situation.
Couldn't find a centre near you? Keep a lookout for this space as we are currently in the works to collaborate with more centres and expand our programme outreach to benefit more people.
Join us as a Participant!
For seniors and retirees looking for interesting activities to participate in as a pastime, this programme will be perfect for you! Participate in workshops that will keep you informed about new ways to enhance your physical and mental well-being, as guided by research. Form your own community friend group and enjoy the various planned initiatives by the community partners.
Ready to embark on an active ageing lifestyle? Approach any of our community partners to find out more about their activity schedule.