Arts, Mindfulness & the Ageing Brain

Ageing is inevitable but have you ever wondered if we have control over how we age? If this question interests you, this curation may have answers for you!
'Arts, Mindfulness & the Ageing Brain' is MAELab's inaugural exhibition, curated by Ms Loo Hwee Hwee (Senior Art Therapist), with Ms Linda Neo (Chairperson, MSC Art Science Council) and the Team.
The physical exhibition was launched by Ms Sim Ann, the Senior Minister of State in the Ministry of Foreign Affairs and the Ministry of National Development, on World Alzheimer's Day, 21 September 2021. The physical exhibition was opened till 31 May 2022 for public to visit and we have hosted over 800 visitors on both onsite and virtual tours. 
Though the physical space has moved on to the next curation, the virtual tour remains open for anyone to visit anytime.
The themed sections showcase an exciting mix of artworks featuring arts in the community and mind-body-space connection, which promoted mental health awareness. The interface between mental wellness and art was explored and local research on how lifestyle changes mitigates the effects of ageing was presented. Visitors can learn about how they can prevent cognitive decline and improve their brain health through art, mindfulness, and tea drinking.
Do you know that there are community programmes that seek to enrich the lives of persons living with dementia and their caregivers?
De-Adventure under Montfort Care is one such programme and MAELab is proud to showcase some of the artworks by inspiring seniors, who remained active despite suffering from cognitive impairments.
Make a guess on what inspired this artwork!
Find your answer in our virtual tour.
Stop Chewing by Sia Joo Hiang
Born and educated in Singapore, Sia Joo Hiang is a painter with a passion for making picture books. Be sure to look out for the featured diary artwork 'Stop Chewing', where she documented her father's journey living with dementia.
Make a guess on what inspired this artwork!
Find your answer in our virtual tour.
Embodied Space: Mind-Body-Space by Anja Humljan
Contemporary urban environments are often visually appealing and technologically advanced. But they can be either sensory-overwhelming or sensory-depleting, causing physical, mental and emotional stress.
The Embodied Space aims to encourage you to make mind-body-space connection and allow your inner self to engage with the environment, to create a healthy and meaningful life.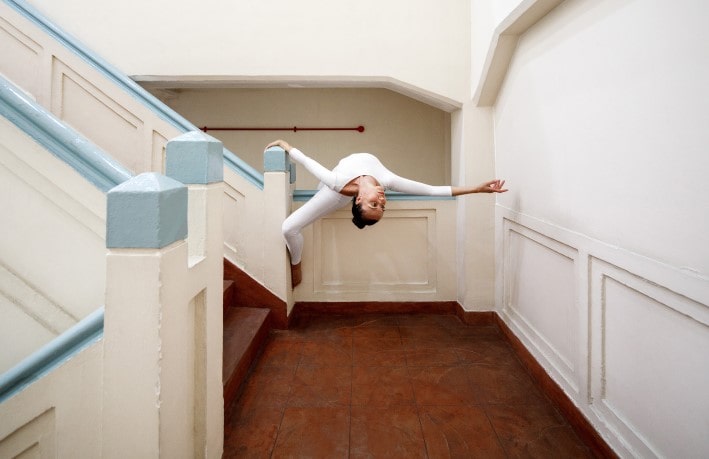 Mindful Spatial Experiencing: "PLAY"
PLAY consists of 67 activities that inspire you to mindfully observe your surroundings and your body, alongside its senses and sensations. By PLAYing, you are taking an active part in creating a healthy and meaningful city life for yourselves and for others.
Anja Humljan was an Academic Visitor at the Department of Psychological Medicine, National University Singapore from June 2019 to June 2020. She conceptualized and performed for "The Urban Yoga Alexandra Hospital" photo series, produced two videos – "Discovering The Wonderland" and the "Embodied Space Artist Profile", conducted "The Spatial Experience" workshops, and produced the "Mind-Body-Space" booklet.
See her artwork in our MAELab Virtual tour.
Introducing MSC's Key Research
We have dedicated some of the walls to showcase some of Mind Science Centre's key research on Art, Choral singing and Tea Drinking over the years. The education component of this exhibition seeks to create awareness of the potential interventions we can engage in to mitigate the effects of ageing and prevent the onset of dementia.