AWE E-LEARNING COURSE AVAILABLE 24/7 FROM NOW ON!
"Active Ageing in the community, by the community, for the community."
We are proud to announce that our flagship programme – Age Well Everyday (AWE) will run its full suite of e-learning training throughout the year!
Interested participants and volunteers will no longer be restricted to quarterly fixed course schedule. Once you signed up for the programme, you will be given 2 months to complete the course on the portal.
As we continue to explore ways to expand our resources, the 2 Mindful Awareness Practice sessions and healthcare professional webinar will still be kept at 4 times a year. So, do keep a look out for key dates when its confirmed.
What are the modules in AWE E-Learning Course?
There are in total 6 content modules: Depression, Stroke, Dementia, Caregiving, Lifestyle Management I & II. If you are keen to take a step further to be a certified AWE volunteer instructor, you will have to complete an additional module on teaching and facilitation.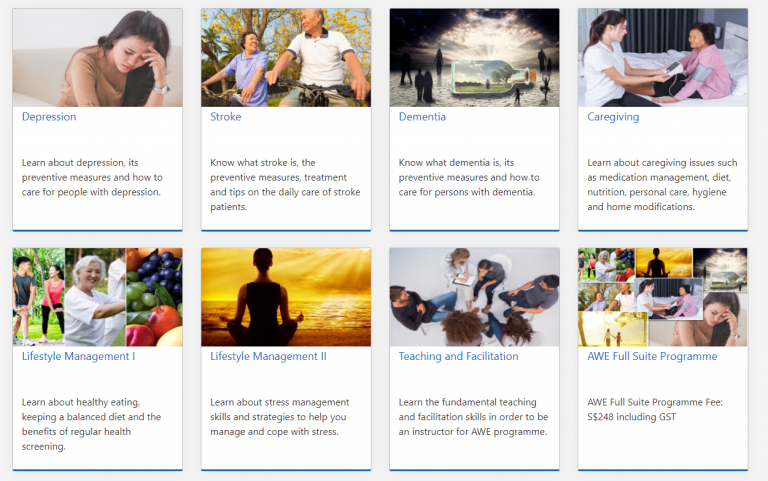 You may choose to enroll in individual modules to gain knowledge of specific interest areas or to simply subscribe to the full suite of modules to gain a holistic understanding of what AWE encompasses.
Click HERE to enroll now! 
We will be launching all modules in Chinese as well! For participants who are more comfortable to grasp the content in Chinese, you can now enroll in the respective chinese modules, professionally written just for you.
Check out the modules in Chinese HERE.
Age Well Everyday is a holistic and evidence-based depression and dementia risk prevention programme designed to delay cognitive deterioration, reduce anxiety and increase socialisation. This flagship programme under Mind Science Centre is derived from the ongoing 10-year Jurong Ageing Study. As of now, the programme includes health education, physical exercise, mindfulness practice, art and music reminiscence, horticultural therapy, choral singing and therapeutic forest. The list may grow as our research team uncovers more beneficial activities.
Click HERE for more information.
Otherwise, feel free to contact us at pcmbox6@nus.edu.sg.