WORKSHOP HIGHLIGHTS: A MINDFUL SATURDAY MORNING WITH DR ALAN WALLACE
A total of 112 participants and invited guests retreated from their busy lives and joined us on the half-day mindfulness workshop with Dr Alan Wallace, respectively across two Saturdays on 19 and 26 June.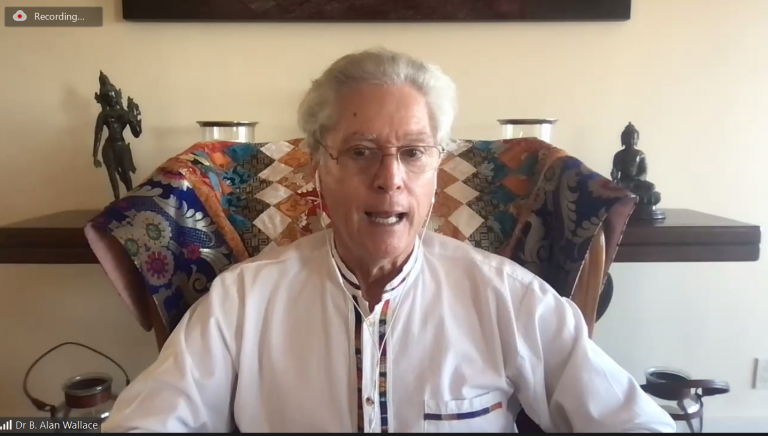 The 4-hours workshop was delivered in two parts, each with a lecture segment, a mindfulness practice session and a Q&A discussion. During the workshop, Dr Alan Wallace first presented in theory and practice, ways of cultivating an inner stillness and awareness that can be sustained even in the midst of a very active lifestyle. The second theme focused on the cultivation of compassion, directed toward ourselves and toward others, while emphasizing the fundamental yearning we all share to find a sustainable sense of well-being and freedom from anxiety and depression.
Training in mindfulness is crucial for us to evolve to a higher degree of psychological maturity.
Here's some quick highlights we would like to share with you!
Eudaimonia – a new way of life to achieve a psychological sense of well-being. The practical way to achieve this way of life and balance is through mindfulness and introspection.
Mindfulness is to be aware of the present moment and our senses, while introspection is for one to observe one's own mental and emotional processes. We can learn to recognize which thoughts, emotions and desires are conducive to and detrimental to one's own and others' well-being, through training in metacognitive awareness. Let's hear it from Dr Alan Wallace.
Now, we know the gradual steps to take for us to reposition ourselves to settle into the new norm and embrace the new way of life towards true happiness
We need to cultivate a sense of compassion and connection, directed towards ourselves and others. The greatest gift we can give to others is our attention.
At times, we may be very focused on what is happening in our lives and feel strongly emotional about our own plight. If we were to take a step back and see things from a greater perspective, it may not be as devastating as it looks. View the video below to hear the analogy of the impact of a pebble in a cup from Dr Alan Wallace.
Once we step out of the self-centered view of the world, we can then expand the field of caring to people around us or even any being in the world. As we cultivate this compassion or loving-kindness to others, we regard them as worthy of being love. With great affection, you wish to do things that benefit them. As people engage in this connection with others, we will be able to achieve a sustainable sense of well-being and mental resilience.
Try-it-yourself: Mindfulness Practice
Are you keen to try out mindfulness at your own time, here's four 15 minutes guided practice by Dr Alan Wallace. You can thank us later!
For those who have more time to engage in mindful listening…
Keen to find out more about Mindfulness Practice?
Mind Gym offers mindfulness-based practices to help working professionals and students mitigate the stressors of daily life. Sign up for our upcoming 8 Week Mindfulness Programme with our mindfulness teacher – Joy Chen, to experience how regular practice helps to improve memory, brain connectivity and even inflammation. The next run of this quarterly programme will be from 4 August to 29 September. Register HERE today!
Are you a Mindfulness Practitioner?
We are looking to build a community of Mindfulness Teacher to facilitate more Mindfulness programmes under Mind Gym initiative. If you are keen to be a part of our community, please register your interest with Joy Chen at joy_jiaoyu_chen@nuhs.edu.sg
For our participants, we hope you enjoyed this workshop and we look forward to seeing you again. For those who missed the workshop, we hope this workshop highlights will be beneficial to you. Video highlights are for educational purposes only, in line with our goals to share knowledge and benefit the community. Please do not replicate the videos or content without permission.
For more information and free online mental health resources, sign up for our mailing list HERE.