Director, The Mindful Compassion Project
Physician (M.B., B.S, 1985, NUS)
Mindfulness Teacher (MSt MBCT, University of Oxford)
Psychotherapist (Grad Dip Child & Adolescent Psychotherapy Studies, Monash University)
Spiritual Director (Master of Arts in Spiritual Direction, University of Divinity, Australia)

Dr Virginia Lien is a medical doctor, psychotherapist and mindfulness teacher. She completed her Master's studies in Mindfulness-Based Cognitive Therapy at the University of Oxford and is a Trained Teacher in Mindful Self-Compassion.
With Mind Science Centre, she has been the instructor of the Mindful Self-Care Programme (MSCP) and Self-compassion for Healthcare Communities (SCHC).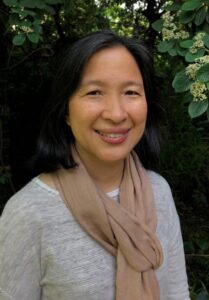 MindGym has been a hub of focus on positive mental health in the community through its recent installations. First, highlighting the needs of the elderly suffering from dementia and, more recently, bringing awareness to the critical developmental needs of youth and their families to become more resilient in the face of adversity. 
 My hope, as a physician and mindfulness teacher, is for MindGym to be a vibrant centre offering programs to address holistic health across the lifespan. Through the latest international research in mindfulness and compassion education, there is hope for individuals and communities to learn ways to enhance both physical and mental well-being—which are inextricably linked. 
 In the past few years, the Mind Science Centre has been offering mindfulness courses to healthcare practitioners, as well as the general public. Especially needed, since the Covid-19 Pandemic, is the call to care for fatigued carers, whether for health professionals or at-home caretakers of the chronically ill. 
 MindGym is well-placed to be a centre of mental health excellence for this critical outreach through ongoing programs such as Age Well Everyday (AWE); Mindfulness-Based Cognitive Therapy (MBCT), Self-Compassion for Healthcare Communities (SCHC) and more.